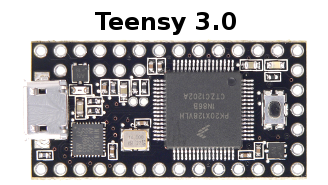 I've been using Teensy-Arduino compatible boards for several years, and this new version looks very promising. It is programmable from inside the arduino IDE. The Teensy 3.0 is a 32bit ARM Cortex-M4 running at 48mhz with some of the following specifications:
32 bit ARM Cortex-M4 48 MHz CPU (M4 = DSP extensions)
128K Flash Memory, 16K RAM, 2K EEPROM
14 High Resolution Analog Inputs (13 bits usable, 16 bit hardware)
34 Digital I/O Pins (10 shared with analog)
10 PWM outputs
8 Timers for intervals/delays, separate from PWM
USB with dedicated DMA memory transfers
3 UARTs (serial ports)
SPI, I2C, I2S, IR modulator
I2S (for high quality audio interface)
Real Time Clock (with user-added 32.768 crystal and battery)
4 general purpose DMA channels (separate from USB)
Touch Sensor Inputs
You can order a Teensy 3.0 from adafruit.com, however the supporting software is in early beta.
Further information here: